BXBmonitor allows to configure conditions that require some action from the person(s) to whom the program sends a message via e-mail, with the previously scheduled frequency.
These messages can be reminders for events, as well as warnings about data found outside of the expected and configured limit.
Alerts about anomalies sent automatically by email
Automatically sending of reminders regarding scheduled events
Releasing the manager from the incumbency of visually audit the data
The process can be scheduled to run many times a day
The setting of patterns (limits) can be made both at the transaction level, as at the summarized level, considering all the content of the cube or partially (with filter applied).
The cubes prepared for BXBdashboard and BXBanalytics can also be used by BXBmonitor.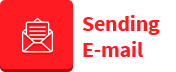 ¹ Extracting, transforming and loading. SQL scripts may be coded by a developer or generated by BXBquery.
² Multidimensional database.
The sending of the messages via email occurs during the cube loading process.
Requires prior registration of the conditions subject to alert
Can treat both a reminder as alert about anomalies (for data outside of an established limit)
The messages texts can be configured by the user
Data check can be transaction-by-transaction or by the cube's total
The compound filter may include conditions containing "(", ")", "AND", "OR" etc.
The scheduled message can be sent to a recipient only or to a group of recipients